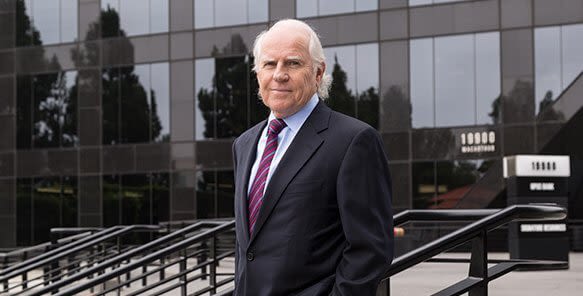 William B. Hanley has been in practice since 1974 in a wide range of legal practice areas, including employment law, environmental law, personal injury (including nursing home neglect and abuse), and trust, business, commercial, real estate, and construction litigation. Bill was selected as the 2002 Business Litigation Trial Lawyer of the Year by the Orange County Trial Lawyers' Association.
He represents both individuals and businesses with a determination to solve their legal issues and to achieve optimal results in every case. Bill works closely with each client and provides a personal involvement in each client's unique issues. He is an experienced legal professional who takes pride in being properly prepared for every case.
Bill prides himself on having played David to many legal Goliaths over the years. Although he has represented several Fortune 500 firms, he relishes the opportunity to represent the smaller companies that have been trampled by those larger and more powerful.
EARLY LIFE
His no-nonsense approach may very well be the product of the large-family, small-town atmosphere in which Bill was raised. He was one of six children, and his father worked in the steel mill of Sharpsville, Pennsylvania, a town of 6,000 people.
Bill remembers his high school principal calling him into the office when he was in trouble. The principal asked him what he wanted to be when he grew up. "A lawyer," Bill said, without knowing why. "You'll never make it," the principal told him. That was enough to fuel the desire.
After he graduated from Pittsburgh's Duquesne University, his aspirations were interrupted while he served a tour of duty in Vietnam with the Army's 101st Airborne. He returned in 1970 to Ft. MacArthur in San Pedro. Deciding to remain in California, he attended Pepperdine University School of Law and graduated in 1974 to join the Costa Mesa firm of Russell Behrens, where he became partner in 1978.
PROFESSIONAL EXPERIENCE
Since entering the law, Hanley has worked for himself or for relatively small firms, giving him the opportunity to prepare and argue a case from start to finish. In the business arena, Hanley has seen many cases of powerful interests trying to take advantage of small entrepreneurs. "That's when I enjoy going into a courtroom, for people like that," said Bill. "It's a joy to see people like that get what's due to them."
I enjoy working with small businesses and small companies. You develop a real personal relationship with these people. They become clients as well as friends.
BAR ADMISSIONS:
California, 1974

U.S. District Court Eastern District of California, 1985

U.S. District Court Central District of California, 1985

U.S. District Court Northern District of California, 1985

U.S. District Court Southern District of California, 1985

U.S. Court of Appeals 9th Circuit, 1977

U.S. Supreme Court, 1985
EDUCATION:
Pepperdine University School of Law, Malibu, California, 1974

Pepperdine University Law Review, Member, 1973–1974

Duquesne University, Pittsburgh, Pennsylvania

B.A., Bachelor of Arts, 1968
PUBLISHED WORKS:
Lis Pendens and Procedural Due Process, Pepperdine Law Review, Vol. 1, No. 3, 1974
CAREER HIGHLIGHTS:
Law Office of William B. Hanley, founder, 1996–Present

Hanley White Kinney & Patch, partner, 1989–1996

Behrens & Hanley, partner, 1978–1989
REPRESENTATIVE CASES:
Dawes v. Superior Court, 111 Cal. App. 3d 82

State Farm v. Davis, 937 F.2d 1415

SDC Pullman Partners v. Tolo, 60 Cal. App. 4th 37
PROFESSIONAL ASSOCIATIONS AND MEMBERSHIPS:
Orange County Bar Association, Member

American Bar Association, Section of Litigation, Member

The State Bar of California, Committee on Jury Instruction, Member, 1978–1980

Orange County Trial Lawyers Association, Member

California Trial Lawyers Association, Member

The Association of Trial Lawyers of America, Member